SEO for Shopify: SEO process and plan
When you start a new store, it must be overwhelming with tons of work and knowledge. SEO is one of them but you should know the basic of SEO upfront so later on you don't have to worry about the mess you leave behind at the beginning.
SEO itself is such a huge field for a starter. At the beginning I spent days and months looking for some materials letting me know what exactly a SEO-er does when they have a project, a website to work on. I ended up drowning in 1000 pages and videos of fragmented answers. So I decided to share with you the process of SEO and the free tools that we have to use along the way.
First, SEO is about improving ranking of your webpage on search engine results page. In order to do so, you have to optimize your site based on the search engine
secret
algorithm. Yes, it's a secret, they also modify it gradually. It's lucky enough that most of the big ingredients are known. These main ingredients are: keywords and their placements on the page, the popularity and trust of the page (mostly based on backlinks), the quality of content (how users react with your content, will they stay for long to thoroughly digest the content, or bounce away quickly).
If you are an absolute starter, you should start off with integrate Google Search Console. Google nalytics for your Shopify store, then analyze your online shop.
On-page factors: Keywords, internal links, site speed

Off-page factors: Building backlink
– Create an XML sitemap and submit it to Google and Bing through your Webmaster Tools accounts you just created. All Shopify stores automatically generate a sitemap. (www.yourstore.com/sitemap.xml)
– Use Google Webmaster Tools to check for 404/500 errors, duplicate content, or any crawling errors.​
You should play around with Webmaster tools at this stage and if you site has any marked red problems by Google, you should go back and forth to fix them.
If the site is no longer a newbie, you can go ahead and analyze it deeper with the criteria listed in the table in step 2
Tools to use: Google webmaster tools. Google analytics
Keyword research has one simple goal: to get
you
to understand how your visitors think and talk about your product or service. "Talk to your customers in their language." Their language, not yours. Just imagine a Math professor teaching a group of 5 year-old kids, and you would know what I mean.
The advantages of identifi main and 'sub' keywords are listed below.
Build a structured website, and content

Know what your customers are looking for

Help your customer find you, increase valuable traffic to your site

Save time SEO-ing Keyword nobody search for
A good keyword list should be built on products/service, customer insight, competitors, experience, etc.
Tools: There are so many tools out there but you have to start simple. Start with your brain by writing down the words people use when talking to you about your products or services.
You should ask yourself question like:
What are you going to offer them?

Why would they be coming to your site?

What do you want them to

do

on the site? Which actions do you want them to take?

What word they would search to find you?
Once you have the list, you can use tools like Google Trends, Google suggest, and use Google keywords planner to expand it. I usually use those tools in that order to gradually expand the list.
Besides, you can always take advantage fro analyzing your competitors' websites. It not only serves the purpose of taking keyword ideas from them but also helps you benchmark your business.

To complete this table, you can use: SEOquake, SEMrush, Spyfu, etc. (You can download this table with the link at the end of the post).
By combining the list of keywords you find with your own mind, and SEO tools like Google Trends, Google suggest, keywords planner, SEO quake, etc., you will have a list of short and long, main and 'sub' keywords for your site.
There is one thing you should bear in mind that you can't be dependent on these modern tools as they are more often wrong than right on search volume, especially with small niches. You'll only know real search volumes if you start advertising for these terms in Google AdWords, but not everybody will have the budget or need to do that.
Another tip for building keyword list is that if you find some keywords that are very competitive. You should find all the keywords surrounding that topic and use these later for a "keyword clustering" technique. This process is very well summarized by an infographic created by
Elliance
: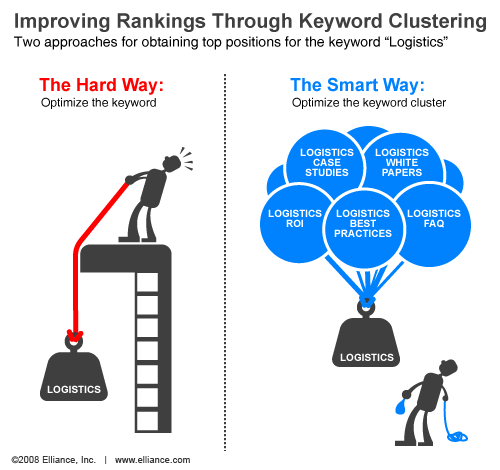 The result of this stage is to get a list of keywords that covers all the terms that your ideal customers would use to search for you.
After finding the keywords, it is critical to distributing them in different pages. Each page will serve the purpose of SEO-ing a few keywords. Normally a single webpage should be optimized for 1 or 2 keywords only.
Site structure is a science and an art. You should bear in mind the 3-clicks rule which clarifies that most of customers are patient enough to get what they found in 3 clicks. You should structure your site as simple as possible. If a customer has to click more than 3 times to the end of your conversion funnel. You should consider simplifying it.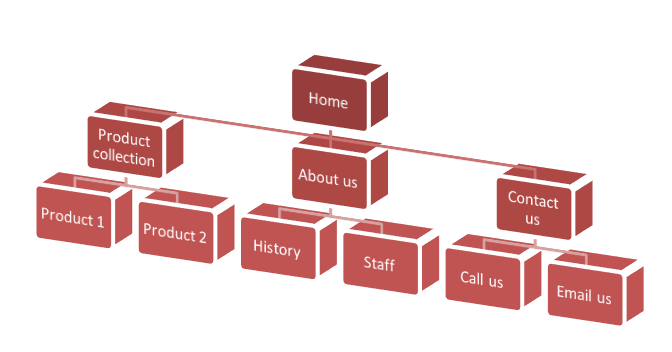 Determine which keywords are your most important ones and make those your top-level pages. You can do this in Excel: each column represents a level of your site, each row a page. Take a site selling fruit juice as an example. This looks something like this: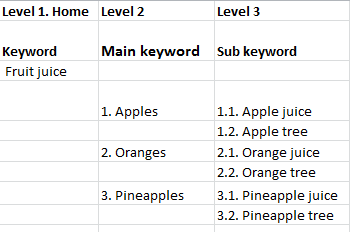 The structure of your Shopify site will be as follows.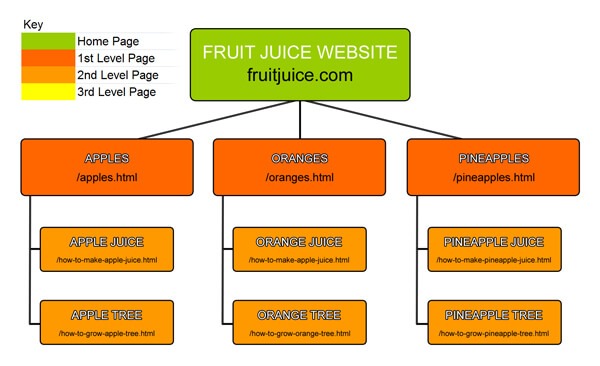 Your content should be written for both human and search engine crawlers. It has to be unique, and valuable while optimized for search engine. All the actions to optimize the keyword placement on the page to make highly recognizable for search engine crawlers are called SEO on-page. SEO on-page tasks mainly include:
Ensure you are using one, and only one, H1 tag on your pages.​ H1 (header 1) tags often used as the main headline for a page and they usually contain the page's main keywords.

Ensure H1 tags are used before other header tags (H2, H3, H4).​Your header tags should be used in a hierarchal order. For example, H1 tag text above H2 tag text and H2 tag text above H3 tag text, and so on.

Keep your page titles under 70 characters so they aren't truncated in results.

Write good page titles that are human-readable.​ Make sure they include the keywords you are trying to rank for but don't over­ optimize or make it a string of keywords.

Keep your meta description under 150 characters.​This is the text under a page title in a search result. Ensure it clearly describes the page and also include keywords but again, don't over-optimize. Each page's meta description should be unique.

Ensure you include a keyword in your page URL.​ Again, don't overdo it.

Keywords are placed in Image Alt tags and names

Keyword density just under 3%, keyword on top of the page is usually more valuable for page ranking.

Limit the use of Flash and table

Include share button on social

Use No-follow link to decrease linkouts

Including Breadcrumbs (help customer identify where they are on your page)
Search engine prefer fresh content so you should frequently update your site content.
Build internal link. It serves 2 purposes:
1.

Lengthen the time on-page

2.

Help crawler crawl your website easily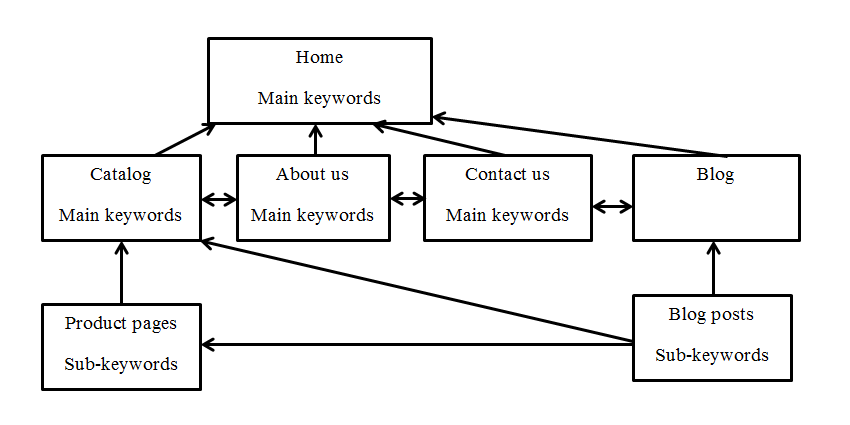 "Content is king and backlink is queen" is a famous quote in SEO-er world. Backlink is the link that points to your page. Backlinks indicate the popularity of your page. However, it is not number of backlinks that matter but also the quality of backlinks matters. Your page is more likely to rank higher if your backlink is from a site working in the same or related fields with high trust score already. Building backlinks is a daunting task, it is not only time consuming but also costly. If you increase the backlink number aggressively, it is risky that your site is fined by search engine and won't appear on their search result page anymore.
Do weekly check for keyword ranking, traffic, conversion.
Tools to use: Rank Tracker, Google analysis
These above steps can be summarized as in this infographic.
Now you can start with SEO optimization by installing
SEO BOOSTER
to your Shopify store. It is not so hard to perfect SEO score by yourself but it will cost you lots of time and effort. Now with SEO Booster, you will be informed and guided how to optimize your site within a few steps. Especially, the app can auto-fix all your title and description, image alt and broken links.